Main content
All the biggest performances from Sunday at Glastonbury 2019
Aaaah, Sunday at Glastonbury. You haven't seen your friends since Thursday, you've drunk yourself sober and decided to stick things out to the bitter end. We salute you.
What a day of music, though - Miley, Kylie, The Cure and a whole host of superb other acts on stages across Worthy Farm. Here's a recap of the final day of what's been a vintage Glastonbury, under gloriously clear skies.
Keep checking back - we'll be adding new clips and pics as the night goes on...
The Cure were the answer to all your ills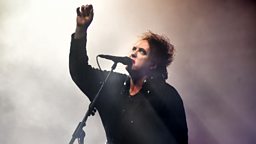 Robert Smith would probably hate it if you called his band a national treasure, but The Cure are truly one of the best groups this country has ever produced. Constantly inventive and always brave, they've been weaving themselves into the fabric of British pop since the mid-70s, and they're no strangers to headlining Glastonbury either. They've now equalled the record for the most headline performances (four in total), although it's been a while since we last saw them at Worthy Farm (1995).
When you've got as many copper-bottomed classics in your back catalogue as The Cure, you let the songs do the talking - no need for pyrotechnics, call-and-response chanting with the crowd, or any other cheap thrills. They eased themselves in with class and style - playing Plainsong from their 1989 album Disintegration - before providing a masterclass in how to temper and build a set over two hours. Fascination Street, In Between Days and Just Like Heaven all sounded terrific, as did the quartet of scorchers in the encore: Friday I'm Love, Close to Me, Why Can't I Be You? and Boys Don't Cry. And this being The Cure, they may have even played a wry joke on the crowd - by leaving out Love Cats. Did you even notice?
Years & Years offered pop perfection, and a message
Sunday on the Pyramid Stage began with performances by the Langa Gospel Choir and soul icon Mavis Staples. Equally righteous were Years & Years, who combined pop perfection with an impassioned speech commemorating the Stonewall riots in New York 50 years ago, which helped spark the fight for gay rights around the world. "We change history every day and it's up to each and every one of us if we want to change the world," singer Olly Alexander told the cheering crowd, adding: "I have no idea how we get there, but what I do know is that if we want to get anywhere without leaving anyone behind, we're going to have to help each other out."
Sir David Attenborough praised Glastonbury for going plastic-free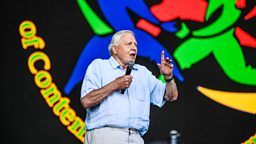 And who's this!? Kylie is officially billed in this year's legends slot, but why have one legend when you can have two? Before Kylie came on, Sir David Attenborough made a surprise appearance on the Pyramid Stage in front of a montage of scenes from his BBC series Blue Planet 2. "There was one sequence in Blue Planet 2 which everyone seems to remember," he said. "It was one in which we showed what plastic has done to the creatures that live in the ocean... And now, this great festival has gone plastic-free. That is more than a million bottles of water that have not been drunk by you at Glastonbury. Thank you. Thank you."
Especially for you, Kylie was divine in the legends slot
This was emotional. In 2005, Kylie had to cancel her Sunday night headline slot after she was diagnosed with breast cancer. She did perform at Worthy Farm in 2010 as a guest of Scissor Sisters, but it was today's set that we've truly been waiting for. The Aussie pop princess gave a legendary performance, helped out by a couple of mates. Nick Cave duetted on their 1995 single Where the Wild Roses Grow and Chris Martin played guitar on Can't Get You Out of My Head. Touchingly, Coldplay had played the song during their Friday night headline set in 2005, in tribute to the absent Kylie.
Cute attack! It's BABYMETAL
Too. Much. Fun. BABYMETAL may be a new name to some of you, but this kawaii ("cute") metal group from Japan has long been a phenomenon in Asia, and far beyond. We took them to our hearts in 2016 when they headlined Wembley Arena in London - the first Japanese act to do so - and released a live album of the show. Their sound fuses heavy metal with Japanese idol pop, leading the group to tell GQ ahead of Glastonbury, "We are quite different from other acts, so we can't wait to see if the audience will enjoy our performance." We loved it!
Miley Cyrus's set was a wrecking ball, with guests galore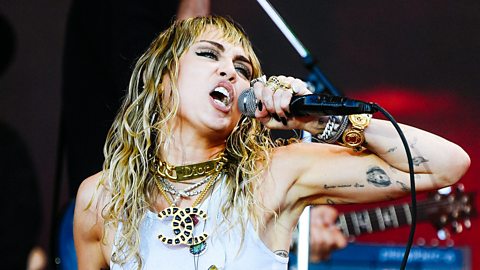 Miley Cyrus performs with Billy Ray Cyrus and Lil Nas X at Glastonbury 2019
There were a few whispers around Worthy Farm that Miley Cyrus might bring out her dad Billy Ray and Lil Nas X to perform Old Town Road, the smash hit country-rap song that will forever remind pop fans of 2019. She did, instantly creating one of the biggest moments of this year's festival, and there plenty of other surprises in her excellent set. Mark Ronson was at hand to play on their brilliant single Nothing Breaks Like a Heart, as well as a cover of Amy Winehouse's Back to Black, which Ronson produced. Hilariously, Miley also performed On a Roll - an interpretation of the Nine Inch Nails track Head Like a Hole - as Ashley O, the character she portrayed in the latest series of Charlie Brooker's Netflix series Black Mirror. Crammed in-between all that was a barrage of quality pop bangers, including We Can't Stop, Party in the USA and, of course, Wrecking Ball, which made for an explosive closer.
The party was just beginning for Billie Eilish
Every Glastonbury there's an artist who makes giant waves from the time they're booked to when the festival actually takes places. This year that artist was Billie Eilish. Fresh from having her era-defining debut album shoot up both the UK and US charts to No. 1 upon release in late March, the 17-year-old singer-songwriter was bumped up to the Other Stage to help cope with the demand to see her. Was she fazed? Absolutely not. As the Guardian reported, "She wields her mic like a rock icon, styles herself like an emo SoundCloud rapper, and sings like an angelic indie songwriter - but unmistakably performs with the pull and charisma of a pop star." For many, this set, which included all her best songs - Bad Guy, When the Party's Over, Bury a Friend - was the most significant moment of the weekend. Expect to see Billie on the Pyramid Stage soon, and very high on the bill.
Kamasi Washington moved heaven and earth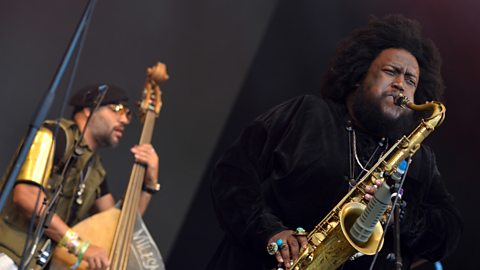 Kamasi Washington performs Street Fighter Mas at Glastonbury 2019
Jazz has had a great Glastonbury. Friday and Saturday saw the big guns of the British scene - The Comet Is Coming, Ezra Collective and Sons of Kemet - play incendiary sets to vast crowds. On Sunday, the Americans rolled into Worthy Farm. On the loungier side of things was Hollywood star and jazz pianist Jeff Goldblum delighting fans at the West Holt Stage with the Mildred Snitzer Orchestra (and special guest Sharon van Etten). Then, later in the day, saxophonist and composer Kamasi Washington played an all-power and very funky set with his supreme group. This clip'll pin you right down - brilliant stuff.
Christine was the queen of the Other Stage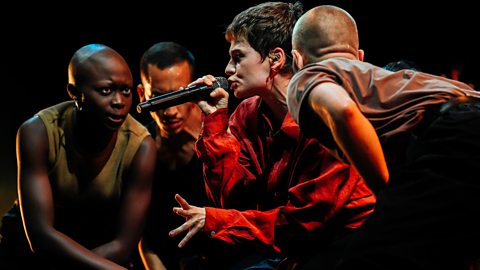 Christine and the Queens perform Girlfriend at Glastonbury 2019
How's this for a list of Sunday-night headliners: The Cure, Christine and the Queens, The Streets and Janelle Monáe. Who to choose? Those who picked Christine on the Other Stage were dazzled by a typically impeccable show of anthemic synth-pop songs and coruscating dance moves. She began with Comme Si before launching into Girlfriend, the utterly infectious lead single from second album Chris. What a class act, and what a way to close the festival. Back to work tomorrow, hearts filled with joy.