Main content
Which Glastonbury Stage Are You?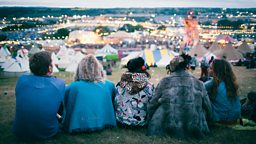 With Glastonbury nearly here, it's important to find out just what type of Worthy Farm fan you are. The kind to pitch up at the front of the Pyramid? Or trek between the John Peel and Other Stages trying to fit in as many bands as possible?
Take our quiz to find out which Glastonbury stage best suits you.
You can keep up with all the Glastonbury action via our six streams on BBC iPlayer. We'll be bringing you live sets from five key stages (Pyramid, Other, West Holts, John Peel and Park), plus all the best bits on our Must Watch stream.
BBC Sounds has you covered too. We've launched BBC Radio Glastonbury, which will broadcast 24 hours a day from Thursday 27th June at 4pm. BBC Radio 1, Radio 2, 6 Music and BBC 5 Live will all be there too so you can enjoy all this from the comfort of your own front room or bedroom or even at the gym!